WELCOME TO CAMP ROOSEVELT FIREBIRD
Ohio's Best Sleepaway Summer Camp

We are closed for the summer of 2023 season and in a period of reorganization.
*     *     *     *     *     
How camp ran during summer 2022
*     *     *     *     *      
*     *     *     *     *
OUR MISSION
At Camp Roosevelt Firebird we create a caring and fun-filled experience every summer. Our community is diverse, equitable, inclusive and provides opportunities for all kids. We are thoughtful stewards of our land. At camp, we do our best to live by these values. We inspire our campers to become leaders, make friends, laugh often and make the world a better place.
Fun Summer Camp Activities
Camp Roosevelt Firebird has everything you could ask for in a sleepaway summer camp. Lake, field, forest, court, and barn … we've got it all! Our overnight summer campers get to enjoy countless great activities and experiences. Our energetic staff creates imaginative, silly and offbeat games, and the boys and girls get to play, learn and grow. We put our own spin on the normal sleepaway summer camp, and make it extraordinary.
At Camp Roosevelt Firebird, what might start as a carnival, a relay race, a campfire, a dance or soccer game may turn into something totally different! We may suddenly dress up, act goofy and let it all hang out.
The bottom line is: Our summer camp knows how to play. Learn more about our activities here!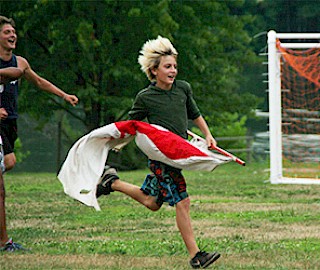 Independence
Summer camp is a time to break away from rigid schedules. Our sleepaway summer campers choose two supervised activities every morning that last a few days. This lets our boys and girls try a variety of new, fun activities all summer.
Our overnight summer campers have structured free time every afternoon where they choose from a menu of possibilities. Once a week, cabin groups plan their own day of activity.
At Camp Roosevelt Firebird, we encourage our summer campers to explore individuality, independance and fun!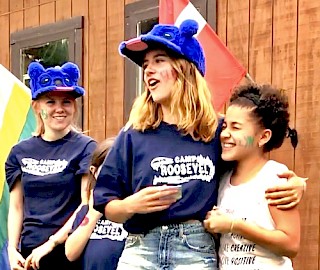 Individual Attention
At Camp Roosevelt Firebird, we're dedicated to making sure that your child has the best possible time at our summer camp.
Before your child even attends Camp Roosevelt Firebird, we do our best to visit your home to get to know you. We try to match up your child with a "buddy camper" from your town. We constantly consult with a child's parents, counselors and his/her friends at camp.
We keep tabs on how each child is adjusting and experiencing summer camp. We observe them, talk with them and do our best to develop relationships. In this way, over days and even years, each individual camper's strengths come to light.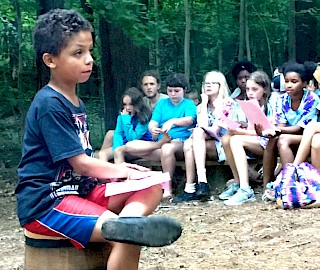 Personal Growth
Our focus is to help your child grow. Sleepaway summer camp has been found to help boost children's confidence, resilience and teach social skills.
Our expert staff guide activity choices and encourage summer campers to try new things: a mountain bike ride in the woods, fishing, zip lining, etc. A camper might read a poem in front of 100 people, speak out in a cabin discussion, lead a dance group or come up with an activity of his/her own.
All campers are recognized and encouraged at our "formation" meeting twice a day. Counselors create a safe and respectful environment that allows them to make friendships and resolve cabin conflicts.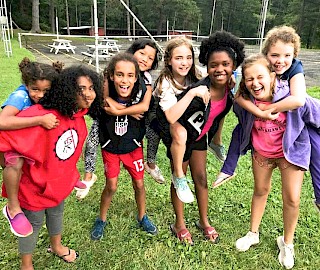 A Meaningful Community
At Camp Roosevelt Firebird, we're a team. Every camper does chores and plays a part. We welcome suggestions to improve life at our sleepaway summer camp. Campers might paint a cabin or build a new hiking trail. Together, we create exciting programs and solve problems.
We're very diverse and this sets us apart. Our summer campers and staff come from all walks of life; camp is inclusive, multicultural, international and draws from across the socioeconomic spectrum.
Our summer camp strives to be green! We grow food on our small farm and carefully raise animals. We compost waste, recycle what we can and minimize our use of natural resources. We do our best to care for each other and our natural environment.
At Camp Roosevelt Firebird, our summer campers and staff make sure to take time to reflect. We have weekly values based campfires that inspire our campers to make a difference at camp and in the larger world. We offer opportunities for community service.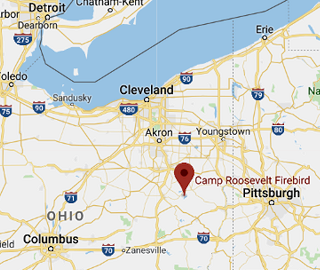 Our Location
Our sleep away summer camp is located in the beautiful rolling foothills of Ohio's Allegheny Mountains, just a short distance from the Cleveland, Columbus, Cincinnati, and Pittsburgh areas!
Kids from all over the world come to our overnight summer camp - we have a good number of international campers every summer -- but our location is especially convenient to those living in the midwest.
Below is our proximity to your location:
Cleveland: 93 Miles
Pittsburgh: 80 Miles
Columbus: 130 Miles
Cincinnati: 230 Miles