Welcome to the USA!
Summer camp is a great place for children of any country.
Camp Roosevelt Firebird is an international overnight summer camp that has a long tradition of hosting campers from other countries, especially from Latin America and Europe.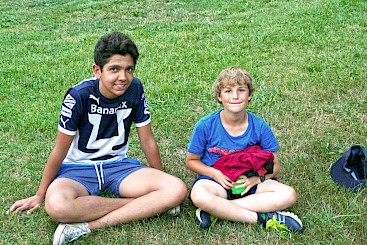 We Understand Your Unique Concerns
We understand your children are going to a camp far from home, living with people they have never met and adjusting to a foreign culture. Therefore, we do our best to suit your family's needs.
We communicate frequently with new parents to answer questions, to assist with the registration process, to offer advice regarding travel and to let you know how your campers are doing at summer camp.

We provide a shuttle service to and from the airport. We meet your child at the gate upon arrival and wait with them at the gate until departure.

We have a small camp, allowing everyone to know each other by name and participate in many projects and activities with new friends of all ages.

Your child will develop new friendships and have the opportunity to be immersed in and practice the English language.

We have many bilingual (Spanish) campers and staff who can translate if necessary and help your child feel comfortable while they get to know everyone in our summer camp community.

Parents are encouraged and welcome to communicate with the camp director via e-mail to check on their child's progress.

We provide a one-way email service that enables parents and campers to communicate with "bunk notes". See our Bunk1 explanation for information about how the system works.

We set aside one day from our busy camp schedule to take international campers on an out-of-camp trip to experience American culture.

Travel money, important papers and passports are locked in the administrative office for safe-keeping upon arrival at camp.

We provide sheets, pillows and blankets for campers who travel by plane in order to save excess packing and extra luggage cost. We will have the beds prepared and awaiting our long distance travelers.

Joe Mendes, our director, speaks conversational Spanish and has experience with many international cultures.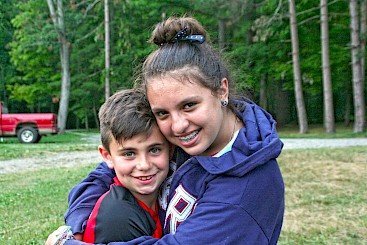 Flight Directions
Plan all incoming flights on Saturdays -- one day prior to camp's opening day. This way your child will have an opportunity to rest, settle in and be ready to go on the first day of summer camp.
Please confirm all flights with the camp office well in advance. If you need assistance with planning your travel, we are happy to help you. Call us at 740.269.0137
Unaccompanied Minors: We pick up all campers at their arrival gate and deliver them to their departure gate. The airline will need an adult's name who is authorized to do this. Therefore, parents and the camp office need to communicate and be on the same page.
Schedule Changes: We will always advise you of any change to your child's flight schedule as soon as possible.
Sign Up Now!!! For your best choice in international overnight summer camping!