Summer Camp Food is the Best!
Everyone at summer camp gets together for meals. It's a blast to eat with your friends!
Before meals, one cabin group will set the tables. During meals, you will sit with your cabin around a big round table. Sometimes counselors lead discussions, or play a table game or lead a song. It can get a little rowdy!
After finishing, everyone helps clear the table. Eating together is one of the ways we connect with each other. We sing, do chores, eat, laugh and share.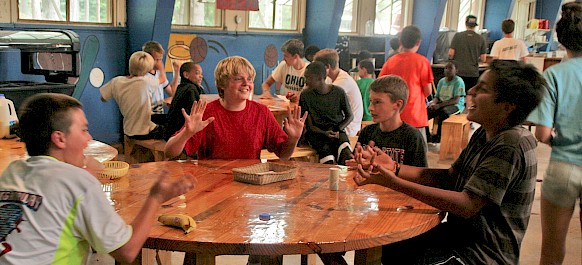 The Food
You will like the food. It's healthy and delicious, and there's lots of it. We have vegetarian options and a salad bar. We serve healthy snacks in the afternoon and at bedtime. We also have cook outs and barbecues.
You can even help us prepare the food, by working in the garden, collecting eggs, and making special recipes.
We use our cob mud pizza oven (that our own campers built!) to prepare a variety of foods ranging from onions rings to fried green tomatoes. And, of course, pizza!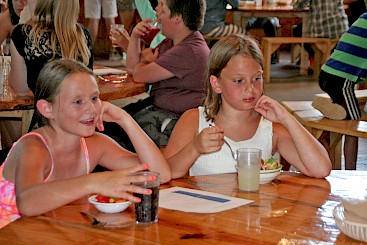 Special Dietary Needs?
If you have a special diet or a food allergy, we just need to know ahead of time. Make sure your parents communicate us before camp so that we have the right food on hand.