Our Summer Camp Environment
Unique Culture
At summer camp, we have the amazing opportunity to create a unique culture of our own that is separate from many of the world's constraints. We relish the chance to do this.
We want to give you an overview of the big picture, those intangible feelings kids experience and the things you notice when you walk through camp. The themes below are central to what makes our camp special.
At the same time, we want you to know all the details regarding
- the way we care for our earth
- the opportunities we provide for service and leadership
Fun and Laughter
Seems simple, huh? However, there's much more to it. And it's all a part of the plan.
Our counselors are trained to make announcements that entertain, have an element of humor and are sometimes ridiculous.
Ceremonies, silly songs, costumes and jokes are a part of our daily lives. Many of us don't have a "self conscious" bone in our body. Such an attitude is catching.
Why do we do this? Many kids are used to caring intensely about what others think. At camp, as long as one's actions and behaviors don't hurt anyone, we approve. Our campers know they won't be teased or put down.
We want kids to let loose and feel carefree, as if nobody is watching. That's what opens up the fun!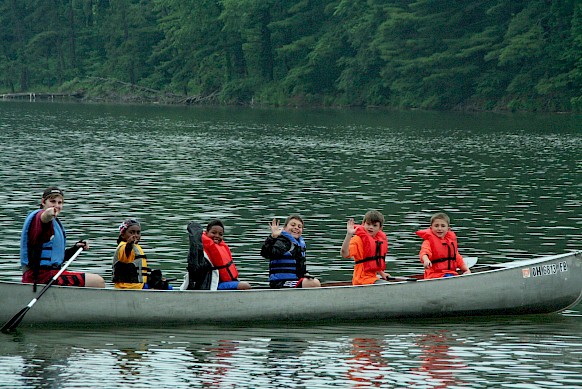 Cooperative Spirit
Our approach at summer camp is more cooperative than competitive.
Still, we compete, we play hard and we provide many ways for campers to challenge themselves. Our staff model good sportsmanship.
We believe that winning the game is not the main goal. We believe that it's more important how you play and how you react to winning and losing.
Many of our activities are made up of multi-age groups. In this context, it is more important to share the ball and encourage others rather than dominate and win at all costs.
There is a time for spirited competition, and we teach our campers to recognize when that is appropriate.
Many of our activities provide individual challenges and are skill-based so campers compete only against themselves.
We play hard, have fun, and move on. That's how we roll.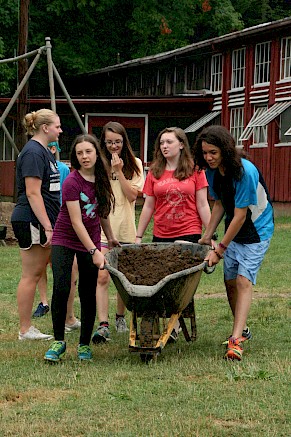 Sense of Ownership
We want our campers to feel like camp is home. We want them to take pride in camp and care for it. Therefore, campers have daily chores that are meaningful and necessary.
Campers clean and tidy up their cabins and personal belongings every day. Cabins are checked by staff to ensure this happens.
We want campers to appreciate working hard and the value of a job well done. That is our long term goal.
We'd love our summer campers to do their tasks because it makes them feel good -- to develop intrinsic motivation. However, we know it takes more than that, so we incorporate creative incentives to encourage good work and publicly recognize such efforts.
Campers also help set tables in the dining hall, harvest produce, collect eggs and help with food preparation.
Campers lead our flag raising and lowering ceremonies and are encouraged to dream up camp activities and projects.
We believe campers, whenever possible, should have opportunities for leadership.
We are Green!
We're doing our best to reduce our carbon footprint and care for the earth. Here are a few of our programs that move us toward that goal.