Leadership and Service
Will he/she feel part of a community?
That's our greatest hope and a priority from the moment our staff arrive to be trained and from the moment we welcome campers when they are dropped off.
We intentionally create an environment where counselors, staff, parents, alumni and visitors -- new and old -- are immediately embraced and included. Every program area, camper interaction, and policy decision keeps the concept of community at its heart.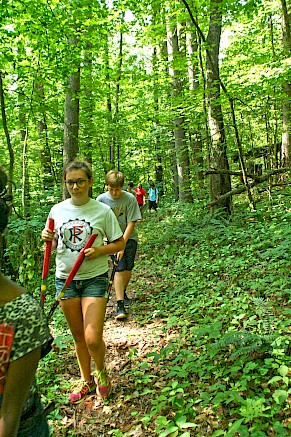 Will there be opportunities for service?
We search for community service projects to participate in. Any community member can lead us in this quest. Our service meets part of our mission: To make the world a better place, at camp and in the world.
Will she/he have good role models?
Our staff members are excellent role models. This is a requirement and an expectation. There are no exceptions. All of our behavior matters all the time. Campers are watching and listening.
Will he/she interact with older leaders?
We have a consistent core group of mature adults that make up our administrative team. These folks interact with the camp community every day all the time. These folks model excellent counseling, teaching, management skills and camper interactions.
Our Counselor In Training program provides weekly counseling seminars which allows our newest leaders to reflect upon, develop and apply new skills. Our oldest campers are encouraged to take on leadership and are similarly guided through the process.
Having an older layer of leadership, ensures a maturity, and guarantees we always keep our camp's mission at the forefront.