So Much to Do at Camp! Every Day!
There is so much to do every day at summer camp! And campers choose most of their own activities. Campers of all ages are often grouped together.
Our summer camp is not competitive. Campers do learn new skills and are proud of their accomplishments.
The kids play hard but we teach them to play for the love of the game. We never let anyone feel left out. And when we have competition, we focus on effort, teamwork, sportsmanship, and fun.
Our Activities:
swimming
boating
canoeing
fishing
basketball
softball
creative arts (in our 1890's barn)
climbing wall
mountain biking
animal care
ultimate frisbee
yoga
creative writing
dance
outdoor education
digital photography
sailing
kayaking
paddle boarding
soccer
tennis
disc golf
challenge ropes course
zip line
farming
fitness
gardening
cooking
camping skills
natural building
camp newspaper
board games
knee boarding
community service
and more!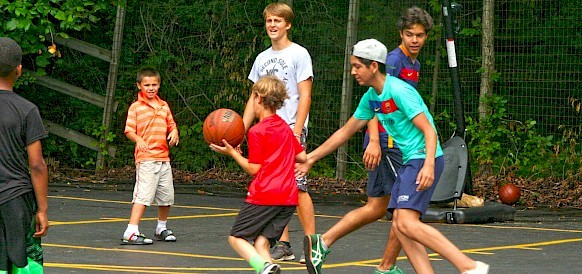 Morning Activity Periods
There are two activity periods in the morning. We call them Project Periods. Campers sign up for their preferences in advance and programs run for 2 or 3 days so that campers can progressively build skills. Most activities are usually available during this time.
These activities are available for everyone, though sometimes there are age or skill level requirements. A camper might choose to go zip lining, play tennis, do arts and crafts, mountain bike, dance, write, cook, play soccer, learn to shoot an arrow, sail, kayak or canoe.
There is such a wide array of actives that campers can always find something they want to do. We encourage campers to try new things, but in the end, they make their own choices.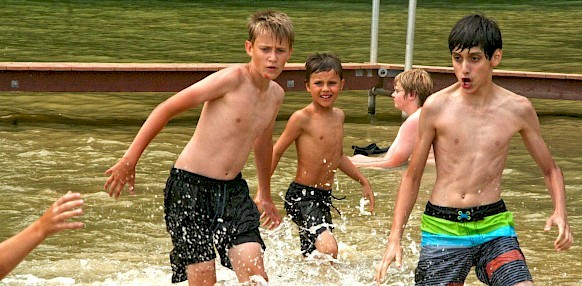 Afternoon Activity Periods
The afternoon is also split into two periods (third and fourth). During third period, we have one day projects and/or group games. Our campers enjoy many unique and zany games.
During Fourth period campers choose an activity. We call this time "Organized Free" because counselors are assigned to specific activity areas and campers move freely within this structure. During Organized Free, campers always have the option to swim at our beach.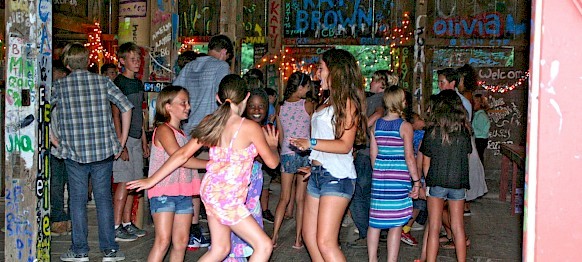 Evening Program
Our evening program is always exciting. We have carnivals, campfires, and barn dances. Our all camp Friendship Fire takes place once a week where we gather together and reflect, sing and share.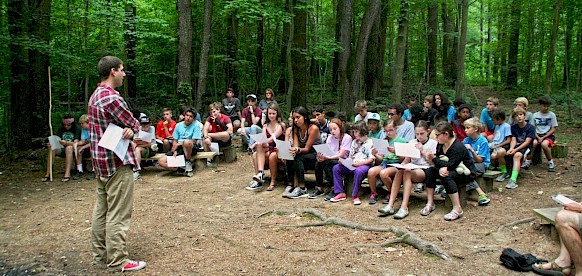 Special Events
Everyone participates in all-camp events like Capture the Flag, 4th of July, Kick-Off, The Big Bang, and the Camp Election. Each year, we try something new. That's the way we like it.
Daily Schedule
8:30 Breakfast

9:10 Cabin Clean-Up / Camp Chores

9:45 Formation (All Camp Meeting)

10:00 Project Period 1

11:15 Project Period 2

12:30 Lunch Warning Bell

12:45 Lunch

1:25 Rest Hour

2:30 Activity Period 3 (One Day Projects)

4:00 Activity Period 4 (Structured Free Choice / Open Beach)

5:30 Clean-up / Showers / Cabin Time

5:45 Dinner Warning Bell

6:00 Dinner

6:45 Evening Program Announcements

7:05 Evening Program

8:30 Formation (All Camp Meeting)

9:00 Cabin Time, Showers, Winding Down

9:30 - 10:30 Lights Out. Depending on Camper's Age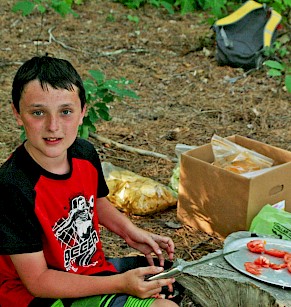 Cabin Day
Once a week, cabin groups plan their own day of programming. This is a day of cabin bonding. Campers stay together as a unit all day long.
The planning process itself requires the use of many interpersonal skills. Cabin groups can get very creative. They may use any of the camp equipment, collaborate with other cabins, do a project around camp or plan an appropriate recreational trip out of camp.
The day begins with a thorough cabin clean-up and cabin inspection done by a member of the camp leadership team. After that, cabin groups enjoy their day, which ends with an outdoor meal cooked over a campfire.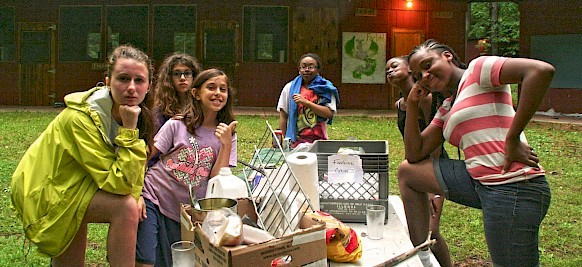 Under camp counselor supervision, summer campers collect wood, build a cooking fire, prepare food and clean up after the meal is done. It's a unique day that allows a group to do what they want.