A Cabin in the Woods!
Firebird
The girls' cabins are arranged in units, one behind the other, located in the wooded area near the dining hall and health center. A unit consists of double cabins on each side of a bathroom. The youngest girls sleep in unit 1 (closest to main camp).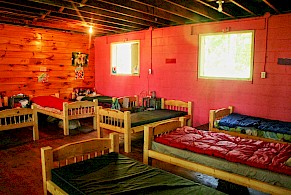 The cabins are an open concept with large screened windows, open rafters, and a covered porch that extends the length of the unit. They are finished with wood paneling and floors.
Campers sleep in handmade wooden bunk beds. Cabin counselors live and sleep in the units for security, supervision, guidance, and bonding with the girls. Because the bathrooms are located in the center of the unit, it is just a short walk next door to shower and use the facilities.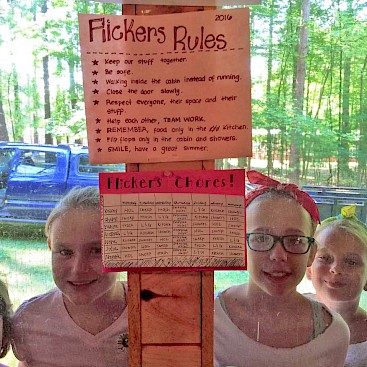 Roosevelt
Five boys' cabins are arranged in a row along the edge of the woods overlooking the Roosevelt sports field and our climbing wall. The cabins are located a short hike from main camp, up "Roosevelt Road". The youngest campers sleep in cabin 1 at the bottom of hill.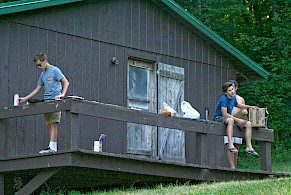 The Roosevelt Cabins can hold up to 10 campers and two to three staff members. Cabin counselors live in the cabin with their campers.
The cabins are wood framed with screened windows along each side and open rafters. Each cabin has a bathroom inside and a front porch perfect for socializing.