Time to Eat
Meal time is a special experience. Before each meal, a bustling crew of campers prepare the dining hall. They set the tables and help distribute our food. After each meal, every cabin pitches to bring dishes back to the kitchen, and make sure food scraps are separated and sent to the compost bin or our chicken coop.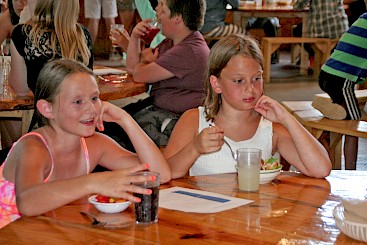 We sit family style by cabin at round tables and discuss the topic of the day. Counselors are taught to actively engage with kids and use mealtime as an opportunity to understand what's going on with their campers. We have outdoor barbecues and cabin cookouts once a week.
Everyday, our campers are learning how eating together connects our community. We sing, do chores, laugh, and share. And of course, we eat!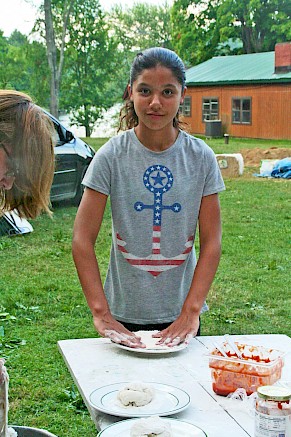 The Food
Our meals are well-balanced and tasty. Seconds are plentiful. Vegetarian options are available at every meal as well as a fresh salad bar. We prefer to cook from "scratch" and use local farms and dairies when possible. Healthy snacks are served everyday in the afternoon and before bedtime.
We try to involve campers in all aspects of growing, cooking and sharing meals. We grow as many vegetables as we can in our own garden and are expanding our production every year. Our chickens lay about a dozen eggs a day. When possible, campers go on field trips to local farms and farmers' markets. Upon their return, they take what they bought and together prepare a dish for the entire camp.
We use our cob mud pizza oven (that our campers built!) to prepare a variety of foods ranging from onions rings to fried green tomatoes. And yes, of course pizza!
Special dietary needs?
If your child has a special diet or a food allergy, we just need to know ahead of time. We keep the kitchen safe and are able to accomodate most needs. Communicate with us before camp so that we have the right food on hand.