Our Leadership Team
Cynthia Larsen, Assistant Director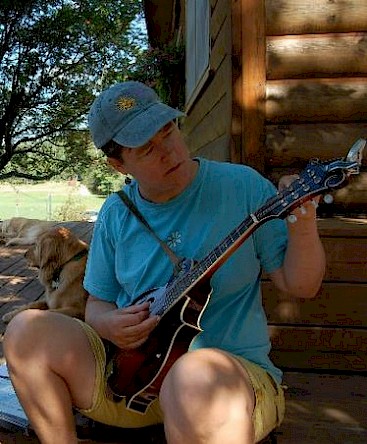 Cynthia, Joe's partner, is an experienced educator and camp person. She has worked at Camp Kamaji in Minnesota, managed a kitchen at a Vermont Youth Corps camp and led her daughter's girl scout troop. Cynthia and Joe have two children, Abe, age 22 and Mariah, age 20.
Cynthia is cofounder and lead teacher at Lake Erie Ink, a creative writing non-profit organization that provides creative expression opportunities for kids, including summer writing camps. She enjoys teaching as a guest in schools and other organizations, and running workshops on comics, play writing, and all the other genres.
She has an undergraduate degree in English from Stanford, a secondary teaching certificate in English from San Francisco State and and Masters in Fine Arts from the University of Arizona. Cynthia loves to read and write, teach, work outside with plants and animals, go for walks, sing and play music.
Q&A with Cynthia

What was the first moment you remember being noticed and appreciated by an adult? What did that mean to you?

When I was about eight, our neighbor Kay had two small children and was home with them all the time. I would go over to help her out, and she was an incredibly good listener. I think I must have talked her ear off, as well as spending quite a bit of time making her toddlers laugh. My mother used to joke about how I would help Kay but I wouldn't want to help out as much at home. Pretty typical I think--kids like to help out more when they aren't at home.

When you have 1 hour to yourself (not at camp), what do you like to do?

I like to read. Some people binge on junk food, but I binge on science fiction and fantasy.

Why do you think it's important that kids go to summer camp?

There aren't enough places where kids can really roam around in the woods by themselves any more. I think adults are less likely to let their kids explore the little wild places near their homes these days, and so camp is a great place to explore. Camp is also a place where you can redefine yourself and become a new improved version of yourself because you leave behind the people and places where people expect you to always be who you have been. This interruption in daily life can really give a kid opportunities to try out new ways of relating to people. You are not the kid who cried every day in first grade any more. You're just Cynthia, in the Flicker cabin, a clean slate.

What impact do you hope to have this summer at camp?

I support the work that Joe and the rest of the staff are doing. I am interested in making sure that everyone is treated fairly and that we build a community of caring and acceptance of all people, no matter their background, identity, or preferences. starting the week of staff training. I also keep a close eye and help manage the swim area. I feel strongly about the importance of swimming safely and teaching swimming well.


I'd like to help plan and cook tasty meals for our vegetarians (like quinoa salad). I will also support the counselors in any program area where I can be helpful: arts and crafts and camp farm activities in particular. And of course, I'll always have ideas and activities for creative writing.

Heather Quinones, Program Director

Heather Quinones, Program Director
Heather has a long history in camping and outdoor education. She worked for both Arkansas Game and Fish in their Education Department teaching Project WILD and at Arkansas 4-H center in Ferncliff, Arkansas teaching young and old about the natural world around them. She directed a children's camp at Crown Point Ecology Center for six years which is where she met Joe one summer a long time ago. She and Joe worked together on the Gearity Learning Garden at his former school in Cleveland Heights.
She has an undergraduate degree from Hiram College, Ohio. And a teaching credential in secondary science from Cleveland State University.
At camp, Heather is our queen of logistics. She makes our programming schedules, assigns counselors to duties and evaluates programming with an eye toward consistent improvement. Heather loves to get dirty and work hard, She helped in initiating our farm program and takes a leading role there to this day. She also is a master an many innovative and creative crafts. She is married and has two children, Daniel, age 11 and Rowan, age 8. Both kids attend camp. You'll likely find Heather in the office, the garden, pastures and animal pens or lounging in a hammock (she owns 12!).
Ian Bartz, Staff Coach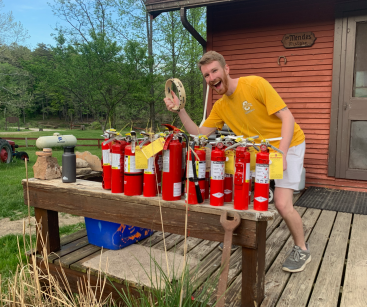 Ian is a Music Education Major going into his final year at Cleveland State University. He plays the French Horn and hopes to teach a middle school band when he graduates. He also has a background in maintenance and enjoys helping in restoration projects around camp. Ian is beyond excited to be coming back to camp in a leadership role where he will be able to promote using and learning lifelong social-emotional skills for both campers and staff members. At camp, he'll be our Staff Coach, an all around Good Samaritan, and a #1 Problem Solver.
Allison Osborne Nurse, Firebird Village Director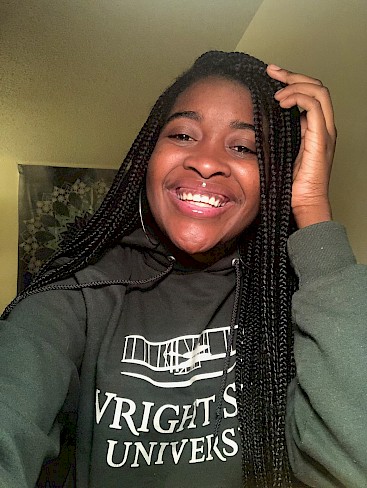 Allison (Alli) Osborne-Nurse will be a sophomore BFA Acting Major at Wright State University in the fall of 2020. She cannot wait to come back to camp for another year of friends, family and fun, while helping campers to open their creative minds through theatre and dance! You'll even see her on the archery range too - she's a proud certified instrctor. She cannot wait to meet all of the new campers and staff along with seeing some familiar faces. Cheers to an awesome summer!
Q & A with Allie

What was the first moment you remember being noticed and appreciated by an adult? What did that mean to you?

It wasn't until my freshman year of high school, when I got involved in my schools theater program, choir programs, and show choir. I would take on leadership positions that no one really wanted and I would put 110% of myself into those groups. When faculty and administration noticed and commended me for the hard work I was doing, it motivated me to want to do more for the arts, and for my high school, which carried on into my college career.

When you have 1 hour to yourself what do you like to do?

I love to dance! It helps me relieve stress. Or you can find me learning a new song on the ukulele!

Why do you think it's important that kids go to summer camp?

I think It's important for kids to experience life away from home, to learn that they can have fun away from a phone or television screen. Kids should be able to interact with other kids their age, interact with nature, and get a new appreciation for the little things.

What impact do you hope to make this summer?

I hope to encourage campers to open their minds to try new things, especially within the arts. I want campers to be able to live unapologetically, so that they can explore and create without judgement. I want to build a positive environment for campers and other staff members so that this can be a memorable summer!

Carl Causby, Head Caretaker

Carl Causby, Head Caretaker
Carl has been our head caretaker and site manager since 2015. He was born and raised in the local area. Around town, he is known as a "hard worker" and a "good man" and in these parts that's about the highest compliment you can get.
Carl has a long history with camp. Starting as a teenager, he worked at Firebird for 17 years during the 1970's and 80's. Today, as you walk around camp and glance at a dock, roof, shed or a counter top, chances are very good that Carl built it.
He is a highly skilled jack of all trades: a carpenter, electrician, plumber and all around handy-man. He manages a tree farm near camp and also operates a small sawmill on his property. He has a great sense of humor and natural modesty. If you asked him, "What do you do for a living?" He'd probably say, "I cut wood." In response, we suggest you nod, smile and tell him camp looks great. Thanks to Carl, it does!
We hit the jack-pot with Carl. He is an invaluable member of our team.