Our Leadership Team
Cynthia Larsen, Assistant Director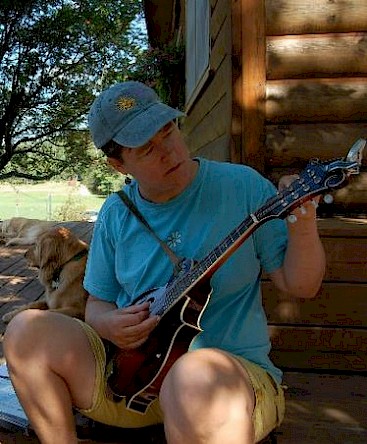 Cynthia, Joe's wife, is an experienced educator and camp person. She has worked at Camp Kamaji in Minnesota, managed a kitchen at a Vermont Youth Corps camp and led her daughter's girl scout troop. Cynthia and Joe have two children, Abe, age 22 and Mariah, age 20.
Cynthia is cofounder and lead teacher at Lake Erie Ink, a creative writing non-profit organization that provides creative expression opportunities for kids, including summer writing camps. She enjoys teaching as a guest in schools and other organizations, and running workshops on comics, play writing, and all the other genres.
She has an undergraduate degree in English from Stanford, a secondary teaching certificate in English from San Francisco State and and Masters in Fine Arts from the University of Arizona. Cynthia loves to read and write, teach, work outside with plants and animals, go for walks, sing and play music.
Q&A with Cynthia

What was the first moment you remember being noticed and appreciated by an adult? What did that mean to you?

When I was about eight, our neighbor Kay had two small children and was home with them all the time. I would go over to help her out, and she was an incredibly good listener. I think I must have talked her ear off, as well as spending quite a bit of time making her toddlers laugh. My mother used to joke about how I would help Kay but I wouldn't want to help out as much at home. Pretty typical I think--kids like to help out more when they aren't at home.

When you have 1 hour to yourself (not at camp), what do you like to do?

I like to read. Some people binge on junk food, but I binge on science fiction and fantasy.

Why do you think it's important that kids go to summer camp?

There aren't enough places where kids can really roam around in the woods by themselves any more. I think adults are less likely to let their kids explore the little wild places near their homes these days, and so camp is a great place to explore. Camp is also a place where you can redefine yourself and become a new improved version of yourself because you leave behind the people and places where people expect you to always be who you have been. This interruption in daily life can really give a kid opportunities to try out new ways of relating to people. You are not the kid who cried every day in first grade any more. You're just Cynthia, in the Flicker cabin, a clean slate.

What impact do you hope to have this summer at camp?

I support the work that Joe and the rest of the staff are doing. I am interested in making sure that everyone is treated fairly and that we build a community of caring and acceptance of all people, no matter their background, identity, or preferences. starting the week of staff training. I also keep a close eye and help manage the swim area. I feel strongly about the importance of swimming safely and teaching swimming well.


I'd like to help plan and cook tasty meals for our vegetarians (like quinoa salad). I will also support the counselors in any program area where I can be helpful: arts and crafts and camp farm activities in particular. And of course, I'll always have ideas and activities for creative writing.

Grayson Blythe, Program Director/C.I.T. Director

Grayson hanging with a friend
Grayson is the current Assistant Women's Lacrosse coach at Westminster College in Pennsylvania, as well as a Resident Director and Graduate Student pursuing a Masters of Education.
Grayson spent four summers as a counselor and classroom lead with the Boys & Girls Club of Wooster, Ohio while completing a Bachelors Degree in English at Davis & Elkins College in West Virginia. Grayson also holds a teaching license for 5-Adult Education.
Grayson is a lover of hiking, lacrosse, bike riding, writing, reading, large group games, hockey, and her family dog, Bob.
She is super excited to join Camp Roosevelt Firebird this summer!
Q and A with Grayson

What was the first moment you remember being noticed and appreciated by an adult? What did that mean to you?

I was always supported by the teachers I had as I grew up. They often noticed and appreciated when I put in extra work, when I helped others, and when I excelled in certain areas. Even from a young age, I knew that their kind words and encouraging statements impacted me positively and allowed me to grow into the life-long learner that I am today.

When you have 1 hour to yourself at camp, what do you like to do?

I like to appreciate nature, speak with my family, or read!

Why do you think it's important that kids go to summer camp?

I think that kids going to camp opens their hearts and minds to a world of possibilities that they may not see in their everyday lives throughout the year. Camp is the opportunity to explore, grow, ask questions, learn, and interact with the world around them.

What impact do you hope to have this summer at CRF?

I hope to positively impact not only campers but also C.I.T.s by facilitating the emergence of confidence, self-sufficiency, and leadership in both groups. I plan to provide campers and CIT's with consistent chances to engage in new and challenging growth opportunities. That's my primary goal.

Kerstin Proctor, Firebird Village Director

Kerstin in the pumpkin patch
Kerstin Proctor will be a senior at Indiana University in the fall of 2019. Kerstin has been a teaching assistant in several undergraduate classes and resident advisor in the dorms for the past two years. She is a student in the SPEA Program (School of Public and Environmental Affairs.) and this summer's SPEA Sustainaibility Intern
Besides leading and supporting Firebird's staff and campers, Kerstin will also manage the camp's recycling program. Her aims are high -- a zero waste goal!
Q & A with Kerstin

What was the first moment you remember being noticed and appreciated by an adult? What did that mean to you?

I definitely felt noticed by adults when I was playing soccer. Through soccer, I grew the most, when adults and peers encouraged me when I passed the ball or did well blocking a shot. I got an overwhelmingly good feeling knowing that people I looked up to were encouraging me and acknowledging my hard work.

When you have 1 hour to yourself what do you like to do?

I love being in my hammock reading a book and or taking a nap.

Why do you think it's important that kids go to summer camp?

I think it is important so kids can build relationships with nature, especialy now in this ever growing technological world. When kids venture out of their comfort zone this can make an impact on a child's development.

What impact do you hope to make this summer?

I hope to inspire kids to appreciate the environment and learn about conservation. Today's children will be more affected by climate change more than ever before. It is important for them to value the environment.

Carl Causby, Head Caretaker

Carl Causby, Head Caretaker
We were so glad to welcome Carl back camp in 2015. He is our head caretaker and site manager. Carl has quite a history with camp; he worked at Firebird for 17 years in the 1970's and 80's.
He is a jack of all trades: a cabinet maker, electrician, plumber and all around handy-man. He manages a tree farm near camp. He knows how to care for trees and can skillfully assess safety relating to trees on our property. He operates a small sawmill on his property.
He was born and raised in the local area. Around town, he is a known as a "good man" and in these parts that's about the highest compliment you can get. He is an invaluable member of our team.
Mike Moore, Assistant Caretaker
Mike was head caretaker for over 10 years during 2000's. He is a skilled maintenance man.
Mike is passionate about camp. His specialty is plumbing, though he can do just about anything.
Mike was born and raised in the area. He has worked many jobs, most recently for a home building company. Mike is an avid fisherman and self taught artist. If there's a job to do, Mike will tackle it.
Pat Moore, Head Cook / Kitchen Manager
This will be Pat's 33rd year as cook. She knows the kitchen (AKA Pat's Diner) like no other.
Pat worked as a cook in the Conotton Valley Schools for many years. After taking some time away fom camp, and newly retired, she is thrilled to be back cooking for us.
Not only a cook, Pat enjoys the camp community and can often be found laughing and interacting with staff and campers. She loves camp with all her heart and fondly refers to this second home as "The Bird".