Our Leadership Team
Heather Quinones, Program Director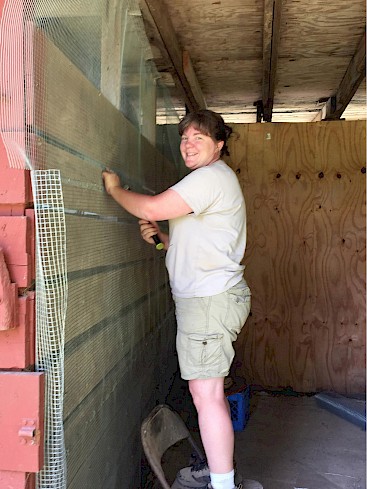 Heather has a long history in camping and outdoor education. She worked for both Arkansas Game and Fish in their Education Department teaching Project WILD and at Arkansas 4-H center in Ferncliff, Arkansas teaching young and old about the natural world around them. She directed a children's camp at Crown Point Ecology Center for six years which is where she met Joe one summer a long time ago. She and Joe worked together on the Gearity Learning Garden at his former school in Cleveland Heights.
She has an undergraduate degree from Hiram College, Ohio. And a teaching credential in secondary science from Cleveland State University.
At camp, Heather is our queen of logistics. She makes our programming schedules, assigns counselors to duties and evaluates programming with an eye toward consistent improvement. Heather loves to get dirty and work hard, She helped in initiating our farm program and takes a leading role there to this day. She also is a master an many innovative and creative crafts. She is married and has two children, Daniel, age 11 and Rowan, age 8. Both kids attend camp. You'll likely find Heather in the office, the garden, pastures and animal pens or lounging in a hammock (she owns 12!).
John McGovern, Staff and Aquatics Director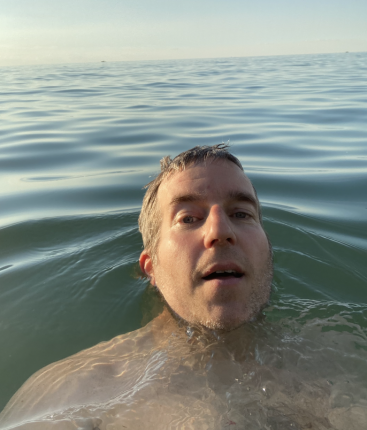 John is a 1-8 generalist educator with a deep love for our connection to the natural world and all its mystery & magic, which is known in scientific terms as Biophilia. R.I.P. Edward O. Wilson! He has a secondary teaching ceritifcate and MA in Environmental Education and Urban Studies from Cleveland State. John was also a teacher in the Chicago, IL and Coumbus, OH public schools.
He revels in word play and swimming in cold water and is perpetually confounded and delighted by how a seemingly simple word like SPELL can have such distinct meanings that are….. related, relatively!
John is a goofball and an intelectual. He loves to talk, to anyone! You may catch him whistling and rhyming phrases into song as he elaborates on a scheme to create a concept album focused on the majestic ecology of the Great Lake Erie ecosystem! He also enjoys tinkering and Irish culture, especially the folk tune 'The Jolly Tinker' which may explain why he is working with urban schools in Cleveland to create more opportunities for PLAYful learning through a practice known as Loose Parts PLAY.
All in all, John is stoked to get to spend the first half of summer at such a gorgeous camp coaching counselors and leading all things aquatic on the lakefront.
Allison Osborne Nurse, Firebird Village Director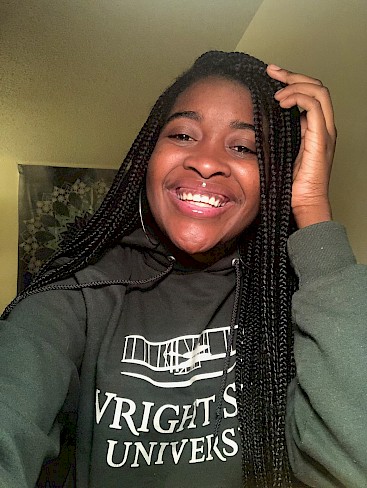 Allison (Alli) Osborne-Nurse will be a sophomore BFA Acting Major at Wright State University in the fall of 2020. She cannot wait to come back to camp for another year of friends, family and fun, while helping campers to open their creative minds through theatre and dance! You'll even see her on the archery range too - she's a proud certified instrctor. She cannot wait to meet all of the new campers and staff along with seeing some familiar faces. Cheers to an awesome summer!
Q & A with Allie

What was the first moment you remember being noticed and appreciated by an adult? What did that mean to you?

It wasn't until my freshman year of high school, when I got involved in my schools theater program, choir programs, and show choir. I would take on leadership positions that no one really wanted and I would put 110% of myself into those groups. When faculty and administration noticed and commended me for the hard work I was doing, it motivated me to want to do more for the arts, and for my high school, which carried on into my college career.

When you have 1 hour to yourself what do you like to do?

I love to dance! It helps me relieve stress. Or you can find me learning a new song on the ukulele!

Why do you think it's important that kids go to summer camp?

I think It's important for kids to experience life away from home, to learn that they can have fun away from a phone or television screen. Kids should be able to interact with other kids their age, interact with nature, and get a new appreciation for the little things.

What impact do you hope to make this summer?

I hope to encourage campers to open their minds to try new things, especially within the arts. I want campers to be able to live unapologetically, so that they can explore and create without judgement. I want to build a positive environment for campers and other staff members so that this can be a memorable summer!

Carl Causby, Head Caretaker

Carl Causby, Head Caretaker
Carl has been our head caretaker and site manager since 2015. He was born and raised in the local area. Around town, he is known as a "hard worker" and a "good man" and in these parts that's about the highest compliment you can get.
Carl has a long history with camp. Starting as a teenager, he worked at Firebird for 17 years during the 1970's and 80's. Today, as you walk around camp and glance at a dock, roof, shed or a counter top, chances are very good that Carl built it.
He is a highly skilled jack of all trades: a carpenter, electrician, plumber and all around handy-man. He manages a tree farm near camp and also operates a small sawmill on his property. He has a great sense of humor and natural modesty. If you asked him, "What do you do for a living?" He'd probably say, "I cut wood." In response, we suggest you nod, smile and tell him camp looks great. Thanks to Carl, it does!
We hit the jack-pot with Carl. He is an invaluable member of our team.