Dear Parent or Guardian,
My name is Joe Mendes. I'm the director of Camp Roosevelt-Firebird. I am also a teacher, a leader and an agent of change. I take on the most serious responsibility I can imagine: to care for children and young adults, to keep them physically and emotionally safe, to care for them and build their self-esteem and self-reliance, and to create the best environment at this wonderful place we call Camp Roosevelt-Firebird.
I am passionate about camp because I believe camp has the power to make the world a better place. People change at camp. They rely on one another and develop awareness of what it takes to live together in peace. When camp "works" everyone has a blast, makes wonderful friends and learns invaluable life lessons. I experienced all of this at camp as a child and it left a lasting imprint on me.
I learned about leadership, humility, compassion, friendship and fun. I learned to take joy in the little things and laugh at myself. I gained self confidence. I recognized that I had unique talents, and that I actually had the ability and power to effect change, at camp, and in the world. I learned to plot my course in life and how to react to adversity that was sure to come my way.
I still have many strong friendships from those days decades ago. My camp experience guides me and deeply informs how I live my life every day and is deeply ingrained in my character and within my soul.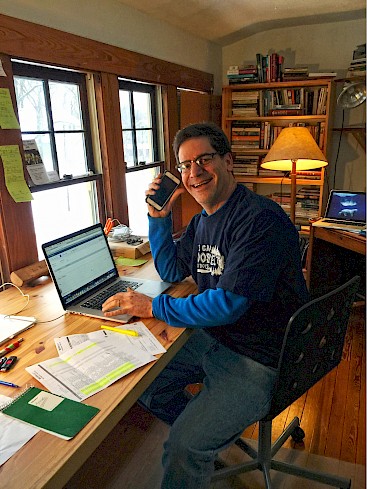 I want each camper to develop a sense of themselves and his/her particular gifts. I hope campers have a ton of fun, become comfortable being themselves at camp, and gain life skills such as leadership. I hope they develop deep friendships over time and learn to communicate effectively. I hope campers take the camp experience (the highs and the lows) and apply it to their lives. My greatest hope is that, in a small way, our camp will influence our campers to someday go out into the world and make a positive imprint.
The essence of Camp Roosevelt-Firebird is COMMUNITY. When we get together as a community, we intentionally seek to create a sense of connection and respect. We do this at meals and our weekly values-based Friendship Fires. Our key log ceremony where community members publicly recognize and thank someone is an essential part of our camp. Our daily meetings at morning and evening formation give campers a chance to share, learn, and regroup. Campers exhibit leadership as they raise and lower the flag, present what they've experienced and learned, celebrate victories, solicit help and make plans for the future. We laugh, cry and sing together. We are silent. We reflect. The natural world is all around us. This is where the essence of Camp Roosevelt-Firebird shines most brightly.
I hope you will decide to trust us with your child. We work to make camp a safe place in every way. We will care for and value them for their strengths and differences, helping them grow in self-esteem and self-reliance
Sincerely,
Joe Mendes